Thursday, December 8, 2016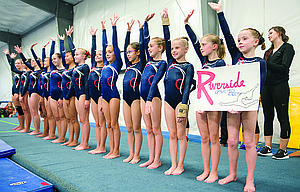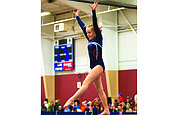 A Glance
Riverside Gymnastics Results
State Compulsory Meet
held in Eugene on Nov. 19-20
Level 3
Acasia Vann: vault- 8.85: bars- 8.85, 9th: beam- 8.45: floor- 8.075: All Around- 34.225
Bailey Holycross: vault- 8.8: bars- 9.05, 8th: beam- 8.55, 6th: floor- 8.275: All Around- 34.675
Brie Adams: vault- 9.075, 8th: bars- 8.775: beam- 8.4: floor- 8.925, 10th: All Around- 35.175, 10th
Brooke Awmiller: vault- 9.05: bars- 9.35, 3rd: beam- 8.75, 8th: floor- 9.125, 7th: All Around- 36.275, 6th
Ellie Rinella: vault- 9.35, 2nd: bars- 9.425, 2nd: beam- 8.55, 6th: floor- 9.225, 2nd: All Around- 36.55, 2nd
Emily Liberidhs: vault- 8.975: bars- 8.85: beam- 8.475, 9th: floor- 9, 8th: All Around- 35.3, 8th
Hannah Adams: vault- 9.45, 1st: bars- 9.1, 7th: beam- 9.225, 3rd: floor- 9.225, 5th: All Around- 37, 2nd
Kenna Strain: vault- 9.025: bars- 8.95, 7th: beam- 8.4: floor- 7.9: All Around- 34.275
Mia Byers: vault- 8.95: bars- 9.35, 3rd: beam- 8.175: floor- 8.8: All Around- 35.275, 9th
Sahale Pfriem: vault- 9.2, 7th: bars- 9.025: beam- 9.05, 5th: floor- 9.125, 7th: All Around- 36.4, 4th
Taylor Armstrong: vault- 8.875: bars- 8.55: beam- 8.075: floor- 8.5: All Around- 34
Taylor Cummins: vault- 8.875: bars- 9.125, 6th: beam- 8.025: floor- 8.75: All Around- 34.775, 9th
Level 4
Annika Baumgarten: vault- 8.4, 8th: bars- 7.1: beam- 8.725: floor- 8.775: All Around- 33
Dylan Vaivoda: vault- 7.9: bars- 7.9: beam- 8.325: floor- 8.3: All Around- 32.425
Erica Mathisen: vault- 8.6: bars- 9.325, 1st: beam- 7.7: floor- 9.025, 8th: All Around- 34.65, 9th
Finley Jenkinson: vault- 8.25: bars- 8.85, 3rd: beam- 9.2, 3rd: floor- 9.15, 4th: All Around- 35.45, 3rd
Gabbe Haskins: vault- 8.85, 1st: bars- 8.85, 5th: beam- 9.2, 4th: floor- 9.35, 2nd: All Around- 36.25, 3rd
Gigi Hiser: vault- 8.625, 7th: bars- 8.85, 7th: beam- 7.15: floor- 8.3: All Around- 32.925
Marissa Baldy: vault- 7.35: bars- 8.45: beam- 9.225, 3rd: floor- 9.1, 6th: All Around- 34.125
Sydney Krentz: vault- 8.1: bars- 8.225: beam- 8.925, 9th: floor- 8.425: All Around- 33.675
Sydney Stanley: vault- 8.05: bars- 8.7, 7th: beam- 8.725, 8th: floor- 8.85: All Around- 34.325, 9th
Bailey Jenkinson: vault- 8.825, 2nd: bars- 8.75, 8th: beam- 9.25, 1st: floor- 9.6, 1st: All Around- 36.425, 1st
Level 5
Daisy Morales: vault- 9.05, 3rd: bars- 9.375, 1st: beam- 8.8, 6th: floor- 8.725: All Around- 35.95, 3rd
McKailla Tyler: vault- 8.575: bars- 8.55, 7th: beam- 7.725: floor- 8.625: All Around- 33.475
Saige Brennan: bars- 8.45: beam- 9.25, 1st
While preparing her team for the most challenging meet of the season, Coach Sarah Smith kept one thing in mind: every move matters at the tough competitions.

And the competition turned out to be tough indeed. Over 20 teams congregated in the Willamalane Sports Center in Eugene.
Among them were the best compulsory-level gymnasts in the state of Oregon.
As Riverside gymnast Daisy Morales put it, "There were some really, really good girls there."
The pressure was on, but there was an element of excitement at the event too.
"It was fun seeing other gymnasts who love gymnastics as much as I do!" Hannah Adams exclaimed.
Undoubtedly, Adams' love of the sport was a sentiment echoed by the rest of her teammates, as evidenced by their hard work in the gym.

"Perfecting their routines these last few weeks has been a life lesson in perseverance and attention to detail," Smith explained.
This particular life lesson led to success on many levels for Riverside.
Collectively, the team brought home 25 medals (1st through 3rd place), and the Level 4 team earned a 5th place trophy.
Bailey Jenkinson, who moved up from Level 3 to Level 4 this year, climbed to the top of the podium for her outstanding performances on beam and floor, and for her all-around score of 36.425.
"It felt amazing to be the state champion two years in a row," Jenkinson said. "I was very shocked—it was a complete surprise. Being with my friends and cheering them on calmed my nerves and took the pressure off."
Teammate Saige Brennan joined Jenkinson as a state beam champion. Brennan took first in the event in Level 5.
Bars champions were Erica Matthisen (Level 4) and Daisy Morales (Level 5). Morales will be moving up to Level 6 next season.
"I'm nervous, but excited!" she said of the upcoming change.
On vault, Hannah Adams and Gabbe Haskins earned first-place honors, Adams in Level 3 and Haskins in Level 4.
"My state meet was an overall great competition," Adams said. "I was really nervous, but my coaches encouraged me. I was shocked when I won vault and medaled in every event."

Added Haskins, "I was surprised when I took first place on vault. [I was] also very happy and excited at the same time. I have struggled on this event in the past, but I worked really hard. And working hard and trying hard never fails — and that is exactly what I did."
Another group of hard-working gymnasts were the members of the Level 3 team, who met their personal goals at the meet.
Acasia Vann, Taylor Armstrong and McKenna Strain all scored in the 34's, and Ellie Rinella met her goal of over a 36.5.
Looking back over an event that required such diligent efforts, and a season that involved such persistent levels of commitment, the coaches at Riverside were proud of their team.
"These girls competed really well," Coach Smith said.
"They pushed hard to finish the season strong, and they succeeded."
Riverside Gymnastics is a nonprofit organization with recreational and competitive programs for boys and girls.
For more information, go to www.riverside-gym.org or call 541-993-8625 or visit the gym at 2221 River Road in The Dalles.
More like this story
Latest stories
Latest video:
Mosier oil train fire
Clips from oil train fire in Mosier, Friday, June 3, 2016. by Mark B. Gibson/The Dalles Chronicle. Enlarge