Wednesday, December 7, 2016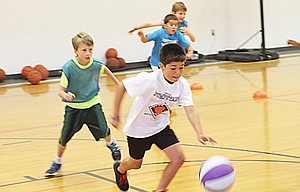 NWPRD opens winter activities
Even during the winter months, the Northern Wasco County Parks and Recreation Department has openings for several youth activities, adding a basketball seminar and soccer tutorial to the long list of upcoming events.
On the hardwood, the Little Hoopers basketball camp is aimed to teach youths a fun introduction to the game of basketball.
Kids will learn basic skills, such as passing, dribbling and shooting techniques.
Session 1 begins every Monday, spanning from Feb. 6 to March 6, and the next event runs on Wednesdays from Feb. 8 to March 8.
Both events are an hour long and start at 6 p.m. at the Dry Hollow Elementary Gym.
Fee is $25 for one session and $50 for both.
The Kinder Kickers soccer instructional offers children rudimentary skills including passing, dribbling, and shooting.
There are two camps being held from 6 to 7 p.m. at the Dry Hollow Elementary School gymnasium.
On Tuesdays, from Feb. 7 to March 7 is the opening tutorial.
Session 2 is every Thursday, starting on Feb. 9 until March 9.
Costs are set at $25 for just one session and $50 for both.
All male and female participants must wear mark-free shoes and balls will be provided.
For additional information on other upcoming events, call 541-296-9533 or log on to www.nwprd.org.
More like this story
Latest stories
Latest video:
Mosier oil train fire
Clips from oil train fire in Mosier, Friday, June 3, 2016. by Mark B. Gibson/The Dalles Chronicle. Enlarge