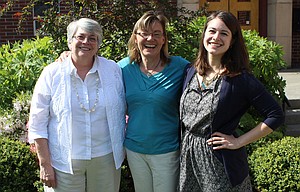 A little over five years ago when Deb Allen became the first woman pastor at the United Church of Christ, which has been in The Dalles for more than 150 years, she didn't think it was a big deal.
Allen had already blazed the same trail at UCC churches in Wisconsin and Washington.
Before becoming a pastor, she had also worked as a professor at Oregon State University in the College of Forestry—a field dominated by men. When Allen went to seminary at Yale, it was half women.
"Pastors are called and when you're called, you do what you're called to do, man or woman," Allen said.
In April of 2011, Allen replaced Karl Vercouteren, who had served at UCC in The Dalles for 31 years.
When Vercouteren arrived in town in 1977, he said there was a married couple—Mel and Mary Patton—who led services at a small Pentecostal church on 14th Street.
In 1995, the First United Methodist Church hired a woman—Adele Hustis. She was then replaced by Jody Selton in 2001. Zion Lutheran also named Dorthy Nielsen its lead pastor in 2000 and Janet Fulmer became Rector of St. Paul's Episcopal in 2007.
Two of the six pastors in the Methodist church's Ecumenical Intern Program, have been females—Vallory Williams and Elizabeth Damico. And its next intern, who starts in July, is also a woman—Alyssa Baker.
While Allen is the only female pastor currently serving in The Dalles, there are two others at UCC churches in the gorge—Vicky Stifter at Riverside Community in Hood River and Kelly Ryan at Bethel in White Salmon.
Like Allen, they don't realize how unique they are.
In a 2012 National Congregations Study, only 11 percent of American congregations were led by women.
But that number is much higher in UCC churches, up from 28 percent to 38 percent over the last 10 years.
"Before seminary, I went to a lot of churches and UCC was the one that had the sense of joy, a strong sense of justice and just being with people," said Allen, who was raised in the Episcopal Church. "It matched what I felt in terms of faith."
The study also takes into account denominations that don't ordain women.
Stifter, who's been at Riverside for nine years, grew up in one of those denominations—the Catholic church.
Even though she had no idea she would become a pastor, Stifter drifted away from the Catholic church in her early 20s partly because of the lack of leadership opportunities for women.
"I had a very strong spiritual sense," Stifter said. "Anytime I would go into an empty sanctuary, I'd sit down in the back and cry. There was just some longing, some pull, some tug, some whatever that was there, a long time, little by little, and then I got involved in Methodist churches and Presbyterian. I wasn't at all tied into denominations."
A Methodist church that Stifter attended in Seattle had a strong female pastor.
"That was actually very significant for me," Stifter said. "It was the first time that I could see myself, maybe unconsciously… and the fact that she was really good at what she did was an inspiration to me."
At age 39, after careers in social work and non-profit management at a law firm, Stifter went to seminary at Seattle University.
Riverside, which has existed for more than 100 years, is her first church and Stifter is just its second female pastor.
Unlike Allen and Stifter, Ryan, the youngest of the three at 28, grew up in the UCC church.
"My parents started going to a UCC church when I was nine because I think they were just looking for some sort of liberal community in a very conservative area [Colorado Springs] and it happened to be a church and it happened to be UCC," Ryan said.
Ryan is also unique in that she knew she wanted to be a pastor at a young age—15.
"I just had one of those really obnoxious call stories," Ryan said.
While looking at colleges, Ryan began thinking about the seminary that her grandfather had attended and questioned who would ever want to do preaching for a job. When Ryan realized she did, she began crying. But these tears were different.
"I normally cried in my life because I was mad, sad or hurt and I was a little confused because I wasn't feeling any of those things," Ryan said.
"It was just something powerful and a wave of emotion. I think that's how I've discerned God's presence since then, a sense of something powerful that's a little overwhelming sometimes."
Even though Ryan didn't have any female mentors in ministry, she never thought it might be challenging to be a woman pastor. She credits the UCC church, which is more intentional about using expansive or inclusive language instead of only "He" to describe God and the divine.
"That does help a lot of women imagine themselves in roles of authority," she said. "I only knew male pastors until I was in college but I never thought why would I not do that? And it might have been the way the language was in the churches that I grew up in."
Ryan went to seminary in Berkley, Calif., and was briefly a chaplain at a hospital.
"A lot of people have an image of what a pastor looks like," Ryan said. "I'd come in and say I'm the chaplain and there were a number of times when people didn't believe me."
Ryan became the lead pastor at Bethel over a year and a half ago. She replaced Stifter's husband—John Boonstra, who has his own history with female pastors.
Boonstra was the son of a Reformed Church in America pastor and went to seminary himself but declined to be ordained because the church did not ordain women. He was later ordained in the UCC.
Although to some they may not look the part, Allen, Stifter and Ryan don't believe being a female pastor has been any more challenging.
They mostly don't even think about it.

"It's our reality," Stifter said.
More like this story
Latest stories
Latest video:
Mosier oil train fire
Clips from oil train fire in Mosier, Friday, June 3, 2016. by Mark B. Gibson/The Dalles Chronicle. Enlarge