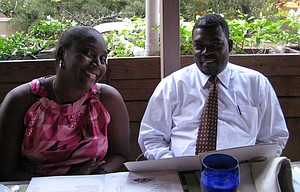 For six years, members of St. Paul's Episcopal Church in The Dalles have been taking mission trips to Haiti.
On Saturday, May 7, the community will have the opportunity to meet the man the parish has supported, as Father Noe and his wife Sherly Bernier will be in town.
"He's going to be making the trip to kind of connect with people and put a face on what we've been doing," said Diane Walworth, head of the Eastern Oregon Haiti Project. "It's nice for the parish to see this is a real person that we've been supporting."
Saturday's festivities will include a social hour and short presentation beginning at 6 p.m., followed by a traditional Haitian dinner. Admission is by donation.
"The dinner is a celebration of the work that we're doing," Walworth said.
The food, prepared by St. Paul's members John Adams and PK Swartz, will consist of rice and beans, chicken and a traditional pumpkin soup.
"Rice and beans are served at every meal, every day," said Walworth, who's made each trip to Haiti. "I make pumpkin soup all of the time but it's really unique to Haiti."
Previously, the Eastern Oregon Haiti Project, which provides professional development for teachers and school supplies, has worked independently, but Walworth said that is changing thanks to a partnership with churches in California, who Noe will also visit on the trip.
Noe was originally in charge of about 10 churches and schools in the surrounding area of Hinche, Haiti, which can include as few as 30 people meeting in a building made of poles with a tarp thrown over the top. However, Noe has just been named archdeacon, which expanded his jurisdiction to more than 22 parishes. He is also a candidate to become the next bishop of Haiti.
"He's a person with a lot of responsibilities but also a lot of leadership and is in a position to make changes more systemically across the country," Walworth said. "I think that's important for us as partners."
Anyone that would like to donate to the Eastern Oregon Haiti Project can send payments to St. Paul's, 1805 Minnesota St., with a notation to the project.
More like this story
Latest stories
Latest video:
Mosier oil train fire
Clips from oil train fire in Mosier, Friday, June 3, 2016. by Mark B. Gibson/The Dalles Chronicle. Enlarge