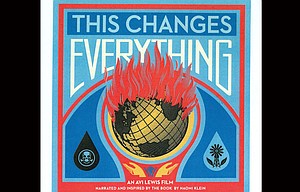 Earth Day event
The 90-minute documentary "This Changes Everything" will screen in The Dalles Friday, April 22, at 6:30 p.m. at St. Paul's Episcopal Church, downstairs in Tayler Hall, for free.
The 2015 film, written and narrated by well-known Canadian author Naomi Klein and directed by her husband Avi Lewis, does have something to say about climate change but its real focus is wider, said pastor Red Stevens.
It poses the question, "What if the climate crisis presents our last great opportunity to build a better world?"
It answers with a convincing "Yes," arguing that all movements toward a more just democracy, more equitable distribution of wealth, more sustainable agriculture and a healthier and more child-friendly society will combine to support not just a livable climate, but a life-affirming world.
Flyers advertising the event around The Dalles, picturing the world in flames, may suggest gloom and doom.
But the film highlights the human stories of ordinary people around the world who organize to protect their lives and livelihoods wherever big business and big government are mobilizing big developments in energy production and resource extraction.
FOC Forum
Fellowship of Churches Forum will take place Tuesday, April 26, at 5 p.m. at First United Methodist Church, located at 305 East 11th Street in The Dalles. The topic is medical marijuana and a light snack and coffee will be provided by St. Peter's Catholic Church.
For more information, contact Jenny Curtis at 541-965-9385 or jennybcurtis@yahoo.com.
Day of Prayer
The 65th National Day of Prayer will be held Thursday, May 5, at 5:30 p.m. on the steps of the Wasco County Courthouse at Fifth and Washington streets.
This year's theme is "Wake Up America" from Isaiah 58:1: "Shout it aloud, do not hold back. Raise your voice like a trumpet."
Pastors Dave Clear and Dan Thomas will open and close in prayer.
Worship will be led by the Lyle Celebration Center Worship team with special music by Sonrise Academy.
This year's emcee will be State Representative John Huffman.
For further information, contact Sonrise Academy at 541-298-8922.
Teacher Potluck
Zion Lutheran and First United Methodist Church in The Dalles are holding a teacher appreciation potluck Wednesday, May 4, at 4 p.m. at The Dalles High School.
More like this story
Latest stories
Latest video:
Mosier oil train fire
Clips from oil train fire in Mosier, Friday, June 3, 2016. by Mark B. Gibson/The Dalles Chronicle. Enlarge