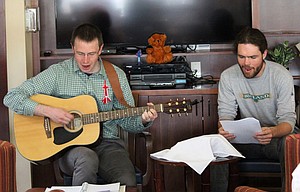 If Tyler Beane, 31, and Adam Jenkins, 27, even went to church, they would clearly be in the minority.
The fact that both are pastors is even more extraordinary.
"Three percent of the people in Oregon our age are actively involved in a church and 15 percent are regularly attending of the whole population," Jenkins said.
"Seventy-five percent of Methodist pastors are retiring in the next five years, like over 300 Lutheran pastors are retiring. I wouldn't be surprised if a lot more young pastors started showing up in the next five or 10 years."
Jenkins is finishing up his one year as the interim pastor at First United Methodist Church in The Dalles, whose congregation's average age is somewhere in the upper 60s to lower 70s.
Beane's congregation at Zion Lutheran Church in The Dalles is younger, but not by much.
The two also lead a church service at The Springs at Mill Creek the second Thursday of each month at 10 a.m.
"You uncover mutual passion," Jenkins said of ministering to people more than twice his age.
"You just talk to them. You find out where your interests coincide and where they don't and you create vision that way. Who are we in this community? That's something we can all grapple with. What is our organization, to The Dalles? What is it to the greater gorge area? The differences don't seem that different after a while."
The Pacific Northwest being one of the most unchurched regions of the country, is one of the things that attracted Beane to the area; that and the mountains.
"We're ready for a rebirth to what it means to be a church in the Pacific Northwest and it's starting to happen," said Beane, who is lead pastor at Zion. "We're prepping our churches for it. We're already extending ourselves in a lot of ways through social services that we do but we need to do the internal work at the same time to say what's church going to look at next, what can we get excited about to our outreach to younger people and I don't think anyone knows what the answer is.
"The church of the future is all experiments. It's like Thomas Edison, 10 experiments and maybe one works. We're just trying to create spaces where people feel welcome to ask questions of their deepest meaning and share stories.
"It's a balancing act. We have that core Christian story. We have our Bible, which I've been trained to do that work. I've been trained to lead Bible study, to ask the questions through the lens of the Bible and that's really important. But we can't just toss Bibles at people. That's not going to work and people aren't coming to our churches often to visit anymore. It feels like it's very much us."
Jenkins was drawn to the area for similar reasons and besides their ages, the two young pastors have a lot in common. Both thought they'd one day be professors, not pastors.
Jenkins, who grew up in Virginia, was studying theology in Claremont, Calif. when he saw the posting for the internship in The Dalles.
Jenkins had people tell him since he was 14 that he'd make a good pastor but he thought they were crazy.
Beane's entire family is made up of teachers.
"For me becoming a pastor was about pursuing the questions that I had about faith and spirituality and that took me a lot of different places," Beane said. "It seemed like a church atmosphere was where these questions can be asked in a meaningful way where you can plug immediately into tradition. We're locking into a dialogue that's taken place over the course of a millennia and really it's a dialogue that goes deeper into what it means to be human. Being a pastor allows me to have those conversations and show people that I care about them."
Beane and Jenkins are both interested in addressing the homeless issue and have been meeting with an ad hoc committee formed by the City of The Dalles.
"We're very interested in that conversation because our faith compels us as faith leaders to look to the margins where Jesus spent a lot of time and to try to find Christ out in the community," Beane said.
"I hope we can support projects but almost as important is just changing the conversation about homelessness," he said. "It's not those people that are the problem but the people that are homeless are persons with stories about why they are where they are and if we can gain some empathy and passion for people in our society who are down and out, it's going to change all of us.
"Seeing [The Dalles City Councilor] Tim McGlothlin talk about mental illness was amazing, that our council people are getting it, too, that there's a variety of complicating factors. We're getting a common language to work on this together."
Beane serves on the board of Community Meals, often eating with those in attendance to hear their stories.
At First United Methodist, Jenkins works with the community backpack program as well as The Gathering, which meets the first and third Wednesday of each month at City Park.
"One of my big motivations is pretty early on I realized that when a church only exists for itself, when it only exists to keep its own lights on and its own bricks in place, that it kind of lost the point of what it existed for and what it was created for in the first place," Jenkins said.

And both Jenkins and Beane have also been interns at First United Methodist Church, which is bringing a new young pastor to The Dalles every year.
Beane was the third in the program, Jenkins the sixth.
"That's a radical model—let's get a new pastor every year," Jenkins said. "I look at them as the talent scouts for the Oregon/Idaho area because they are getting new folks in and trying them out and usually, like in my case, the internship led to something more."
Jenkins will become an associate pastor at Gresham United Methodist Church on July 1.
More like this story
Latest stories
Latest video:
Mosier oil train fire
Clips from oil train fire in Mosier, Friday, June 3, 2016. by Mark B. Gibson/The Dalles Chronicle. Enlarge