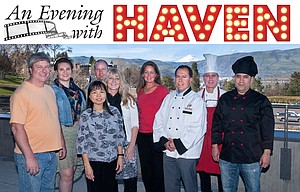 The glamour of Hollywood and nostalgia of a 35th anniversary set the stage for "An Evening with HAVEN" that will be full of elegance and reflection The event on Thursday, April 7, begins at 5:30 p.m. in the Fort Dalles Readiness Center, 402 East Scenic Drive, where the ambiance includes floor-to-ceiling windows and a sweeping view of the Columbia River and Mount Adams.
The scenic setting is complemented by culinary delights prepared by local chefs, accompanied with wine and beer for purchase. Live music will be provided by the Underwood Jazz Society, featuring Mike Stillman and Friends.
"We have more chefs than ever," said Tara Koch, executive director of HAVEN (Help Against Violence Encounters Now) of the Columbia Gorge, about the 16th annual event.
Tickets are $35 and available at Klindt's Booksellers, 315 E. Second Street, or at the door. Koch said HAVEN staff plan to dress up for the occasion but many people will be coming to the fundraiser directly from work so any clothing style is welcome.
"This is the first year we've had a theme so our staff thought it would be fun to dress up, but we want everyone to be comfortable in whatever they wear," she said.

The menu includes cuisine prepared and donated by: Baldwin Restaurant, Casa El Mirador, Class Act Catering & Café, Cousin's Restaurant & Saloon, Cowboy's Catering, Class Act Café, Freebridge Brewing, Montira's Thai, Petite Provence, The Pines 1852 and Zim's Brau Haus.

Representatives from these businesses will serve everything from steak and Texas caviar to coconut salad, cheese fondue, BBQ ribs, soup with homemade bread, Caesar salad, grilled quesadillas and Pinwheels.
Courtney Gallant, health development coordinator for HAVEN, has been busy in the past few months collecting old articles and photographs that will commemorate some of the organization's 35 years of service.
HAVEN covers Wasco, Sherman, Gilliam and Wheeler counties, as well as the Confederated Tribes of Warm Springs Reservation and other gorge communities.
"The first feature article I could find was in the Chronicle in 1981 where HAVEN was referred to as a 'support group,'" said Gallant.
Historical photos will be incorporated into the centerpieces and a rolling slide show features a vignette of survivor quotes, photos and past publications.
Although there will be frivolity at the April 7 party, the cause is serious and the need is great, said Koch. "We need to raise $100,000 each year to meet match needs for grants or budgeted items," she said. Thursday's auction includes about 2,500 items that have been contributed by a long list of businesses and service providers in the region.
HAVEN generally makes about $25,000 at the annual event and this year Koch hopes to raise $30,000 to help meet a never-ending list of expenses.
"The more we have, the more capacity we have to serve survivors," she said.

In 2014, shelter was provided to 288 homeless women and children. Seventy-five percent of the women who seek help from HAVEN have children but Koch said they can often get more help from agencies than women with grown children or those without, so these clients can be more expensive to support. "We have a lot more 24 and 50-year-old survivors walking through our doors now," she said.
In addition to operating the shelter, HAVEN uses federal dollars to provide rape prevention education.
Other programs, funded by state and federal dollars that require matching dollars, include trauma yoga therapy for children who have been abused and education for teens about dating and healthy relationships.
The goal in working with elementary, middle and high school students, said Koch, is to give youth skills that will prevent teen sexual and dating violence.

Koch said the grants HAVEN receives have to be used for specific purposes so unrestricted funding is needed for emergencies that arise, such as housing women after the HAVEN shelter burned last year. At that time, HAVEN spent more than $30,000 to ensure displaced survivors and their children had lodging for the six months it took to get the structure repaired.

During that tough time, Koch said the affordable housing crisis in the area was brought home because it was difficult to find alternative dwellings.
Gallant said the organization is now looking to build a fence around the shelter that will accommodate Equine Therapy. Time on horseback has been shown to be very effective with people who suffer from depression, attention-deficit disorder, anxiety and many other psychological and emotional problems. People wanting to help HAVEN but are unable to be at the fundraiser are invited to learn more about the 120 Campaign (a donation of $10 per month) by calling 541-296-2065 or accessing the organization's Facebook page or website at www. haventhedalles.org.
More like this story
Latest stories
Latest video:
Mosier oil train fire
Clips from oil train fire in Mosier, Friday, June 3, 2016. by Mark B. Gibson/The Dalles Chronicle. Enlarge