Wednesday, November 18, 2015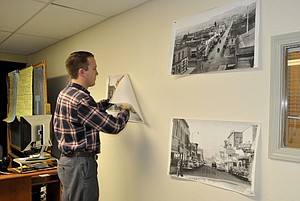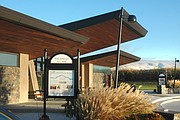 Three informational kiosks will be put up in downtown The Dalles early next year to help visitors choose places to shop or dine and provide a little historical education.
Matthew Klebes, director of The Dalles Main Street, said the kiosks will be modeled off the ones in place at the commercial dock and Lewis and Clark Festival Park, both at the foot of Union Street.
The new kiosks will be placed about three blocks apart on Second at the intersections with Federal, Union and Madison streets.
"Ideally, we want to have them up before the cruise ships arrive next year," said Klebes.
A map of the downtown and list of businesses will take up one side and Klebes is working with local historians to decide on what facts or stories to feature on the other.
He would also like to have distances put on the maps so people will know how far it is to their chosen destination.
He said a round-trip stroll from Sunshine Mill on the east end of town to the western end of the downtown corridor and back via Third Street would be about two miles.
"We hope to encourage walkability," he said.
The cost for the sign boards is $22,750 and it will be paid with $16,000 from urban renewal, a $2,000 grant from the National Association of Realtors and the remainder from Main Street in cash or in-kind services.
"I'm really excited about this project, I think it's going to be fun as well as helpful," said Klebes.
He said Nan Wimmers from Columbia Gorge Real Estate arranged for the grant that helped kick off the kiosk project.
There are 220 businesses on Second, Third and Fourth streets and Klebes said it will be helpful to have information about services and goods readily available to residents and visitors alike.
"I would like to see some historical photos as well to show what the town was like so people can make a comparison with today," he said.
Volunteers have undertaken an inventory of businesses for the map and Meyer Sign Company.
The Tigard firm fabricated the existing kiosks and will make and install the new ones.
Klebes could not find a local business to take on the manufacturing job so the Main Street board went with Meyer.
"The city had already worked with them and we wanted that consistency," he said.
Klebes is planning the project from his new office in The Mint building, 701 East Second Street, Suite 3, that he moved into on Nov. 1.
"It was really wonderful to be anchored in the chamber for two years — it was a great way to make connections and integrate with the community," he said.
Tim Schechtel, owner of the building, provided Main Street with office space at a discount.
"That was his contribution to our program," said Klebes.
There is a meeting room as well as a central office and Klebes welcomes people to come by, enjoy a cup of coffee, and share ideas to further economic development.
Office hours are 8 a.m. to 5 p.m. daily but Klebes, who is frequently on the go, recommends that people call before they come to avoid missing him at 541-370-2966.
Also on Klebes' work plan is getting bike racks installed downtown to accommodate riders, both guests and local residents.
After being turned down for a grant from Cycle Oregon, Klebes got three donations for racks, which will cost $400 to $800 each to construct and install. He is now consulting with welding classes at the high school to see about getting more manufactured.
His goal is to have the racks readily available to anyone who wants to lock up a bike and spend time checking out stores and restaurants downtown.
Getting the word out about what is happening on Second, Third and Fourth streets promoted Klebes to undertake video interviews, a project that won the Best Marketing Project Award by Oregon Main Street.
The informational videos are filmed at businesses and highlight their products and how they are made.

There is no cost to business owners to participate and Klebes said it takes three or four hours to put one together.
He has six of the Discover Downtown The Dalles series videos completed and posted on You Tube.
More like this story
Latest stories
Latest video:
Mosier oil train fire
Clips from oil train fire in Mosier, Friday, June 3, 2016. by Mark B. Gibson/The Dalles Chronicle. Enlarge