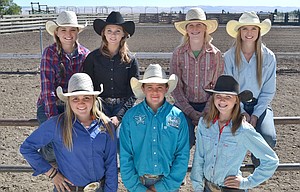 The Columbia Basin Rodeo Team with members representing the Greater Columbia Gorge is sending six members to state for five days of action from June 10-14 in Prineville looking for a chance to chalk up Silver State berths in Winnemucca, Nev. or trips to Nationals in Rock Springs, WY.
Team coordinator Tonya Brumley credits the team's success in large part due to practice, perseverance, patience and a strong, healthy horse.
Now that the stakes are raised, these cowboys and cowgirls will have to raise the bar even higher.
"The kids need to improve their time in the timed events in hopes of placing first in their events allowing them to achieve more points," Brumley said.
In all, this team has one senior, one junior, one sophomore and three freshmen making the state trip.
Dufur High senior Megan Elam, is currently ranked 13th in Barrels with 22 points, and she is fifth in Poles with 49.
Michaela Browning, a junior out of Goldendale, Wash. is No. 13 in the rankings in Poles with 23 points.
Arlington sophomore Joely Patnode is top-ranked in three different events, 15th in Barrels (18 points), 21st in Breakaway Roping (14 points) and 16th in Goat Tying (19.5 points).
During the summer, the team hatches out a plan for its annual rodeo held over Labor Day weekend in Condon during the Gilliam County Fair.
The Condon High School Rodeo serves as the first season rodeo each school year as well as raises funds that the kids use towards the end of the season.
Due to the distance of members from one another, the team practices independently near their homes.
"The kids practice during the year to improve their skills, techniques and times in hopes to achieve the highest event points," Tonya Brumley said.
Points accumulate as the rodeos continue through the year at the seven rodeo locations.
By the final rodeo, the 20 kids with the highest points in each of the 11 events qualify to attend the State Finals.
The team with the highest points also win awards as a team.
Bryce Harrison leads the trio of freshmen ready for state, as he is ranked fifth in the boy's rookie classification and 20th in Team Roping with 28 points.
Goldendale, Wash. freshman Morgan Jane Coyne is ranked 10th in the girl's rookie class, 11th in Poles with 24 points and 14th in Goat Tying (21.5 points).
Morgan Brumley, a freshman at Dufur High School, currently sits in 11th place in the girl's rookie division.
She is ranked 16th in Barrels with 17 points and with her 19 points is ranked 17th in Poles.
"All of the club members and their parents all share the same goal," said team advisor Joe Patnode.
"That's how this has to work. The goal is to practice for performance and everyone is trying to be a state champion. This is an individual sport, but the kids encourage each other and work as a team," Patnode said.
"I am very proud of this group of student rodeo athletes. They work hard, try hard and they are just great kids period."
Overall, there are 11 events, such as Team Roping, Bull Riding, Saddle Bronc, Bareback, Tie Down Roping, Steer Wrestling, Barrels, Pole Bending, Goat Tying, Breakaway Roping and Cutting.
High School Rodeo covers all of Oregon during the seasonal rodeos from September to May.
Rodeos were held in Condon, Molalla, Hermiston, Eugene, Klamath Falls, Prineville, and Burns.
The participants will gain more event points as they continue to succeed at the state finals.
At the end of state finals, the top-4 participants with the highest points qualify to go to Nationals starting on July 12.
The remaining participants who took spots 5-20 qualify to attend the Silver State International Rodeo (SSIR) in Winnemucca from June 30-July 5.
Freshmen also qualify for the Rookie of the Year award.
This year, there were 15 freshmen boys, and 22 freshmen girls coming into high school rodeo.
More like this story
Latest stories
Latest video:
Mosier oil train fire
Clips from oil train fire in Mosier, Friday, June 3, 2016. by Mark B. Gibson/The Dalles Chronicle. Enlarge