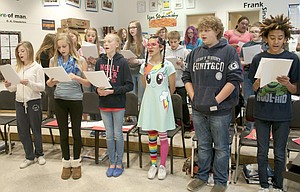 It's been quite a first year at The Dalles Middle School for music teacher Leslie Sullivan.
And it's not over yet.
Two concerts remain as the choir will perform on Tuesday, June 2 at 7 p.m. in the commons followed by the band on Thursday, June 4 at 7 p.m. in the gym.
The TDMS choir will sing six pieces, including "Yonder Come Day" in three-part a Capella harmony with hand drumming.
Another song, "Rhythm of Life," will feature dueling pianos.
"It's traditional choir meets an interesting array of instruments," Sullivan said.
The theme of the choir concert is 'hope.'
"As we're building this program the students and I agreed that we wanted our spring concert to be a theme of hope so we're doing a song called 'Pompeii,' where we talked about the hope that they had when everything was destroyed," Sullivan said. "We're doing 'Imagine' by John Lennon and imagining things to come."
The band concert will feature separate performances by the sixth, seventh and eighth graders as well as 150 students playing one song together.
Sullivan came to TDMS after nine years teaching both choir and band at Horizon Christian in Hood River.
Sullivan, who did her student teaching in The Dalles at Chenowith Elementary, thought she could make more of a difference in the public school system.
"The Dalles has a rap for being a difficult school district but when I did my student teaching I saw a need for teachers who care," Sullivan said. "Not that I couldn't care about my students at Horizon but I really wanted to be in a place where I can truly make a difference and an impact. I think there is some amazing things going on in this district, which drew me to it."
Sullivan has seen the seventh and eighth grade TDMS choirs really grow and develop over the school year.
"Before, the choir had good sound but they lacked the technique," Sullivan said. "We have gone from singing unison one part choir music to singing three-part and four-part harmonies a cappella without instruments, which is a technique and a skill that they've learned. They've learned to read music and to not just sing the melody line like they would sing along to the radio. It's a different style of singing."
The choir also brought musical theater to TDMS, performing "Annie Jr." on March 6-7.
More than 100 students were involved in the project. Along with the performers on stage, students in Sullivan's fine arts class made props and sets or did lights and sound. Both nights had packed houses with 400-plus people in the audience.
"If you look at music from K-12, there's a need for a strong boost and that's one of the reasons that I brought in the music theater program is to boost interest in music and because of the music theater program I have numerous students this year who are pounding down my door to get into choir next year because they want to be part of that," Sullivan said. "I'm excited because I'm providing positive opportunities for those kids to have an outlet. There's so much bad news coming from the middle school and high school. There's so much ugliness and to be that positive impact and create something positive to be a part of, the kids that were part of 'Annie' were beaming. They were proud of the accomplishments they made."
The new musical theater program isn't the only thing Sullivan's students have to be proud of. TDMS had seven kids selected to all-state band and choir and 21 students named to the Mid-Columbia honor band and choir. The TDMS band also took first place in this year's Cherry Festival parade.
"They were excited, they were proud and they saw their hard work pay off and providing those opportunities is really what has affirmed my decision to come here," Sullivan said.
More like this story
Latest stories
Latest video:
Mosier oil train fire
Clips from oil train fire in Mosier, Friday, June 3, 2016. by Mark B. Gibson/The Dalles Chronicle. Enlarge