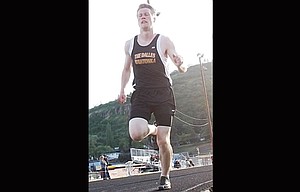 Through seven varsity and one junior varsity track and field meet, The Dalles High School continues to rack up personal records and top-10 outputs.
Friday at the Dean Nice Invitational in Gresham, Riley Bardes, and Katie Conklin racked up wins and Yasmin Hill matched her season best in the pole vault to pace the Riverhawks.
"Overall, we were just really pleased with the marks the kids produced and we are proud of their effort," said TD head coach Garth Miller.
Marissa Heemsah had a personal record in the 1,500 meters with a time of five minutes and 58.47, and Hill added a 67.66 for a career-best in the 400 meters and was good for seventh place in the long jump with her 16-1.75.
Kayla Siebel set a lifetime best in the triple jump at 32-0.25, Louise Smith had a PR in the 100-meter hurdles with an 18.77 and Alexa Tapia was fourth in the 400 meters in 75.29.
Karen Jesch had personal records in the shotput, as she placed 12th with a throw of 27-10.25, and she was 10th in discus after a toss of 90-05.
Katie Conklin had a time of 16.46 to lock down sixth place in the 100-meter hurdles, she was first in the triple jump with a 34-11.75 and the 4x400-meter relay team of Tapia, Molly nelson, Aileen Luna-Lopez and Peyton Wojtecki turned in a 4:40.70 for 11th place.
Bardes kept his solid pace in the shotput with a distance of 48-7.25 to take first place, Joey Duong added third place in the discus with his 137-2 and Addison Smith moved up the 5A rankings with a javelin toss of 146-10.
"I really like the way the kids are stepping up and competing as they prepare for the district championship next week," Miller said.
Orion Smith had a mark of 12.10 in the 100-meters, Caleb Wild went for a personal-best 26.42 in the 200-meters, and Quinn Strassheim had a PR by more than 11 seconds in the 800-meters with his time of 2:33.84.
Glenn Breckterfield had a time of 56.84 in the 400-meters, Zerin Croover-Thops added a 4:57.42 in the 1,500-meters and Ian Corey timed out in 18.52 for his try at 110-meter hurdles.
Michael Lantz had a mark of 11:19.89 in the 3,000-meters and Julian Hernandez had a 125-04 in the javelin toss.
The 4x400-meter relay team of Antonio Morales, Glenn Breckterfield, Paul Clark and Josiah Abrams added a 3:47.70 to grab eighth place.
Up next, The Dalles heads to Pendleton at 3 p.m. Friday for the Last Chance Meet.
More like this story
Latest stories
Latest video:
Mosier oil train fire
Clips from oil train fire in Mosier, Friday, June 3, 2016. by Mark B. Gibson/The Dalles Chronicle. Enlarge