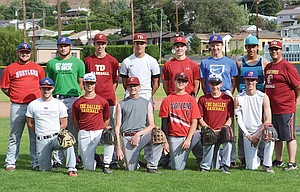 Fresh off a tryout session and a handful of practices, head coach Ed Ortega has his Fort Dalles 'A' Hustlers ready to hit the regular season in full bore for American Legion summer baseball action.
Ortega has a solid and versatile roster of 18 players, six returners, spanning Sherman, Dufur, White Salmon, Wash. and The Dalles.
"We have some good talent and we have some guys who can hit the ball pretty well. We have a few guys who can play pretty good defense, so we should be fairly solid on both sides of the ball," Ortega said. "We have some depth in our pitching. We have a lot of guys who can throw and throw strikes. Hopefully that is good for us."
Of the 18 athletes, Ortega said as many as 12 can pitch, so there is plenty of depth to throw at the opposition.
At the top of the rotation are The Dalles JV standouts Spencer Honald and Bailey Ortega.
Jacob Wetmore, William Justesen, Tyler Westin, Preston Klindt, Jose Gonzales and Jacob Smith can also add some innings for the Hustlers, who have six games scheduled for June so far.
"They each throw a lot of strikes and are very effective and pitch really well," Ortega said. "I am expecting that when they go out there, they will compete and throw strikes to guys and make the defense work and we will go from there."
Offensively, the Hustlers have a speed element at the top of the order and have some pop in the middle of the order to drive in runs.
Cash Mathewson, Connor Uhalde, Honald, Johnny Miller and Jose Gonzalez are speed factors, who steal bases and pose threats to the defense.
Klindt, Westin, Wetmore, Matt Strizich, Daniel Peters and William Justesen have the power stroke working in their favor with an ability to spray the ball to all fields.
Sherman's Wyatt Stutzman and Bradley Moe, White Salmon's Tylan Webster, Bailey Ortega, Storm Douthit and Hood River's Jacob Smith will figure into the offensive equation when given the opportunity.
"We have got a fair amount of speed from a lot of the kids that I have seen," coach Ortega said. "I think we have a good mix. If we get guys on base, we got a couple of guys that can crank out the ball. If we get guys on base, we can score them, so it comes down to execution."
Coach Ortega has yet to see the Hustlers in competitive action this season, but he said the first few games would allow him to get the lineup and pitching staff in order.
He knows what the recipe for success will be this summer.
"I think the most important thing is for them to get repetitions and competition," the first-year Hustler coach said. "By looking at our schedule, I think we are going to have some good competition. At this level, we do want to win ballgames, but at the same time, I'd rather go out and compete and lose by a run or two, than go out and get blown out."
Part of the American Legion scope lies in teaching the fundamentals of the game and giving players game action against a high level of programs from across the state.
It will definitely test their mettle when it matters most in ball games.
"My main focus is just get better in each game and play well," coach Ortega said. "We want to start off well and give it our best, this way when we look back at the end of the season, in our last few games, we want to be playing our best baseball and know that we grew a long ways than where we started. That is my biggest thing, is improvement every game."
Playing in a six-team league along with Gresham and Roosevelt to name a few, the Hustlers will need to string some wins together to advance to the postseason in July and August.
With his returners and a group of players coming in from other programs, realizing that preseason goal is within reach.
"What I hoping for is for us to be good enough to qualify for the playoffs," coach Ortega said. "We want to end up winning the league, but we have to play up to our potential. We can definitely do that. I hope that by the end of July, we are good enough to qualify for Super Regionals."
The Hustlers host Estacada for two games at noon Sunday at Quinton Street Ballpark.
At 5 p.m. Tuesday, in TD, Fort Dalles kicks off league play for two games opposite Roosevelt.
More like this story
Latest stories
Latest video:
Mosier oil train fire
Clips from oil train fire in Mosier, Friday, June 3, 2016. by Mark B. Gibson/The Dalles Chronicle. Enlarge