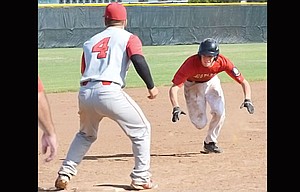 The Fort Dalles 'A' Hustlers finished with a 6-11 record and went 2-8 in league play this summer for first-year head coach Ed Ortega, but the skipper is looking long-term in developing the talent he had on the roster to give the athletes a head-start going into fall ball and high school action next spring.
"I feel that Hustlers gives kids the opportunity to play and get more repetitions and hopefully have fun playing," Ortega said. "I really enjoyed coaching these guys."
For the first two weeks of the season, the Hustlers were strictly practicing and scrimmaging due to the cancellation of their first six games.
Ortega had a roster of American Legion baseball veterans with Cash Mathewson, Tyler Westin, John Miller, Preston Klindt, Matt Strizich and Wyatt Stutzman bringing experience and leadership to the dugout.

Bailey Ortega, William Justesen, Daniel Peters, Jacob Wetmore, Jacob Smith, Tylan Webster, Jose Gonzales, Bradley Moe, Connor Uhalde and Spencer Honald represented the newcomers.
But, Coach Ortega said their skill set was in line with what the entire league had, so there was little to no drop off.
"I told them that when they play how they are capable of playing they are really fun to watch," Coach Ortega said. "This is a good group of kids."
On the mound, Ortega said he got the most consistency from a group led by Westin, Miller, Wetmore, Smith, Honald and Bailey Ortega.
In 94 1/3 innings, the Hustlers allowed 103 runs, 73 earned on 188 hits with 91 strikeouts and 65 walks.
Westin won two games, had 17 strikeouts in 22 innings and posted a 2.55 earned run average.
Miller also struck out 17 batters to finish with a tie for the team lead, and both Bailey Ortega and Justesen had a 3.23 earned run average.
The biggest surprise was Gonzalez, the Hustler coach said.
Gonzalez allowed seven runs, six earned in 11 1/3 innings with six strikeouts.
"He really had a couple of really good outings and really impressed me with his poise and performance on the mound," Coach Ortega said of Gonzalez.
On the offensive side, the Hustlers posted a .361 batting average with 141 runs scored.
They had 58 walks and 106 strikeouts, and 33 of their 168 hits went for extra bases, including home runs by Mathewson (.405) and Smith (.357).
Gonzalez led the team with a .517 average with 12 runs scored and seven RBIs.
Miller had a .513 average with a team-high 16 runs scored and seven RBIs, Peters batted .450 with seven runs and six RBIs and Honald added a .343 average with eight runs scored and nine RBIs.
Bringing some added pop to the lineup, Westin drove in a team-leading 15 runs, scored 10 times, had three doubles and ended up with a .459 batting average.
Justesen scored 14 runs, walked a team-high seven times, had six RBIs and had a .429 average in 25 plate appearances.
"John Miller really hit the ball well, as did Tyler Westin and William Justesen was smoking line drives," Coach Ortega said. "Daniel Peters was really consistent and was a line-drive machine. Some guys like Spencer Honald and Matt Strizich struggled at times, but they continued to work really hard outside of games and practices to make adjustments to improve their swings and become positive factors in games."
Ortega also mentioned Moe, Webster and Klindt as players who displayed more confidence as the season went on.
Entering play at the start of the season, Ortega said his group had speed to burn and the Hustlers finished with 55 stolen bases on 64 attempts. Mathewson's 10 stolen bases led the team.
"I really had some good speed on the bases, Cash Mathewson, John Miller, Preston, Connor Uhalde, Dan Peters, Jose, Jacob Smith and Wyatt Stutzman are all speed demons and we tried to be aggressive on the bases," Ortega said. "It got us into some trouble at times, but if any of those guys got on, watch out."
Defensively, the Hustlers committed 38 errors, but the group of Justesen, Peters, Moe, Bailey Ortega, Westin and Mathewson committed a combined six miscues and 110 putouts.
"Daniel Peters didn't have an error over his season of high school ball and legion ball," Coach Ortega said. "If we didn't have a really good center fielder in Cash Mathewson, Dan would be the guy in center. That being said, we really had a pretty solid outfield, Cash Mathewson had an outstanding season both at the plate and in center. Probably the best outfielder The Dalles baseball has, in my opinion."
Coach Ortega also had glowing sentiments for the play of Stutzman, a Sherman High School athlete and catcher.
In just eight games, Stutzman hit .269 with eight runs and six RBIs. He committed three errors, but added an important element to the team.
"He hustles all the time and is always talking trying to keep his teammates up and in the game," Coach Ortega said.
Having solid coaches makes Coach Ortega's job much easier and he had assistants Mike Armstrong and Brandon Strizich helping every step of the way.
He thanked his wife Shawna and the parents for showing their support through the summer.
Although the final record was not what Coach Ortega expected, he learned a lot about his team and what they have to offer their respective programs.
"I didn't meet my goal of getting the team to playing our best ball of the season," Coach Ortega said.
"I was really disappointed in that, because, the talent on this team is pretty good."
More like this story
Latest stories
Latest video:
Mosier oil train fire
Clips from oil train fire in Mosier, Friday, June 3, 2016. by Mark B. Gibson/The Dalles Chronicle. Enlarge