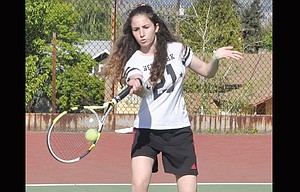 After taking a 6-2 loss to Pendleton Thursday, The Dalles girls' tennis head coach Debby Jones is using this result as a learning tool for her players.
It is a process of building for the long haul.
"We will deal with those results right now with the determination to keep closing the gap each match," Jones said. "We are gaining great experience and the telling part will be when the matches are not for practice anymore and peaking at the right moment for the district tournament."

The two Riverhawks wins came in the singles classification with foreign exchange student Marisa Cianci winning her No. 1 matchup and Kiana Pielli scoring a three-set triumph.
Cianci won the opening set by a 6-4 score over her Pendleton opponent, also of Italy and she secured a sweep with a 6-1 score.
Pielli had a marathon match going the distance with Hannah Flanagan, with the Riverhawk sophomore taking an early edge 6-4 in the first set.
Flanagan jumped ahead 5-0 in the second set, but Pielli did not break down. The Pendleton standout was able to even things with a 7-6 win to send this match to a decisive third set.
There, Pielli outlasted her opponent by a 10-7 margin for the victory.
"I know Kiana was tired but, so was her opponent," Jones said. "Kiana chose not to show it and I think that mental toughness was the deciding factor in the match."
Two of the Riverhawk losses came in heartbreak fashion in three sets with each round separated by 2.3 points.
Anna Miller and Johanna Wilson took on Keren and Keziah Hampton on the No. 1 doubles side in what has turned into a rivalry match for the past two seasons.
Miller and Wilson jumped ahead 7-5 in the first set, but the Hampton twins evened things up in the second set by a 7-6 tally on a tiebreak.
In the third set, the Pendleton duo came out ahead for a 10-6 win to take the match.
"With every match, Anna and Jo are closing the gap between the senior twin sisters," Jones said. "Today, the twins got the last word, but I am excited about the potential in the aggressive style of play that our girls are starting to make a part of their game."
The versatile Leslie Luna-Lopez has played matches in singles and doubles and hit the court Thursday in a singles showdown versus Aieleia Sayre.
Luna-Lopez won the opener, 6-4, but Sayre caught her second win in the next round for a 6-1 outcome to send the match to a third set.
Sayre was able to create some distance down the stretch for a 10-4 winner.
The Dalles next heads to Hermiston for a matchup at 4 p.m. Wednesday.
More like this story
Latest stories
Latest video:
Mosier oil train fire
Clips from oil train fire in Mosier, Friday, June 3, 2016. by Mark B. Gibson/The Dalles Chronicle. Enlarge