Wednesday, August 6, 2014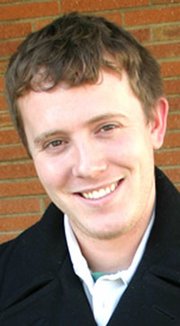 Matthew B. Klebes has been hired as the first executive director of The Dalles Main Street and will begin his contract Aug. 18, according to a press release from the organization.
"We thought that it was critical to keep Matthew on as the director," said Chuck Covert, president of The Dalles Main Street. "Everyone has been very supportive and pleased with the work he has done and we are excited that he took the position."
Klebes originally arrived in The Dalles as an AmeriCorps Resource Assistance for Rural Environments (RARE) volunteer in August 2013 for an 11-month contract. He completed that contract July 31.
"I have had a great experience in The Dalles, both professionally and personally. The area is absolutely beautiful and there is such potential here. I am eager to continue the work we have started and truly have an impact on the downtown," Klebes said.
Since his arrival, The Dalles Main Street has conducted activities such as the Downtown Spring Clean-Up, Jammin' July, a Bike Friendly Recognition Workshop, the establishment of a new Façade Grant Program through urban renewal, hanging of downtown Christmas lights and the installation of The Dalles' first Parklet on downtown Second Street.
"We are excited to have Matthew on board. This past year of working together has been a great partnership between the Chamber and Main Street, I look forward to the positive changes ahead for The Dalles," said Lisa Farquharson, CEO of The Dalles Area Chamber of Commerce.
The Dalles Main Street Office is currently located in the chamber offices. The organization works to comprehensively revitalize Downtown The Dalles using the National 4-Point Approach: promotion, design, organization and economic restructuring. These committees are open for anyone to join or attend.
For more information about Main Street, visit www.thedallesmainstreet.org or visit their Facebook page. You can also contact Klebes at 541-370-2966.
READ NEXT TOP STORY: For the record, Aug. 6
More like this story
Latest stories
Latest video:
Mosier oil train fire
Clips from oil train fire in Mosier, Friday, June 3, 2016. by Mark B. Gibson/The Dalles Chronicle. Enlarge