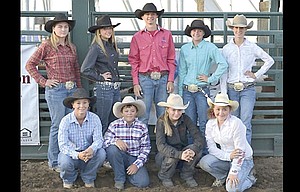 It is the time of season where rodeo athletes turn it up a few notches in preparation for Silver State and Nationals.
All six cowboys and cowgirls, two from junior varsity, representing the Columbia Basin Rodeo Club will extend their seasons since performing well in the Oregon High School Rodeo finals at the Crook County Fairgrounds in Prineville.
"The team has done a tremendous job this year," said CBRC advisor Tonya Brumley. "As parents, we are so proud of their success and greatly appreciate all of the support that our sponsors and community has given."
In the high school division, Dufur High School sophomore Kolby Bravos ended up ninth in Team Roping and 18th in Tie Down Roping. He will be going to the Silver State International Rodeo (SSIR) where he will compete in both events.
As a junior from Condon-Wheeler High School, Bailey Harrison has proven to be one of the top wranglers in the state. She ended up at second place in Goat Tying at state and tacked on eighth in poles. Harrison is going to Nationals in Rock Springs, Wyo., to participate in the Goat Tying event.
In her two seasons competing in rodeo action, Redmond Proficiency Academy junior Mattie Watt placed 10th in Poles and she notched 14th in Barrels, 25th in Breakaway Roping.
Watt and her horse, Moka, that she has trained since the animal was three months old, won the first round of Pole bending at state, a huge accomplishment for the duo.
With those two performances, Watt will head to the Silver State International Rodeo to compete in these events.
Dufur High School graduate, Brooke Brumley had another strong showing when the stakes were raised with a split for 11th-12th place in state for Goat Tying, and will be participating at Silver State International Rodeo as well as Breakaway Roping.
Brumley plans to attend Blue Mountain Community College in Pendleton to study Agriculture, and then she will transfer to the University of Idaho for her Bachelor's Degree.
While at BMCC, Brumley looks forward to participating on the college team in Goat Tying, Barrel Racing, and Breakaway Roping.
In addition, this year the Oregon High School Rodeo Association gave more than $20,000 in scholarships. Brumley was a recipient of a renewable $1,500 annual scholarship from OHSRA.
Through the process, she had to apply for the scholarship, write an essay and conduct an interview in front of a three-person panel committee.
As a whole, Tonya Brumley could not be more delighted in the progression this group has made over the years.
"Our rodeo youths success is a result of hard work, perseverance, dedication, community support, sponsorships, and practice," the team advisor said. "Parental and team support also play a role into the mix by helping one another to be the best they can be."
There was a pair of athletes participating in the Junior High Class with Bryce Harrison and Joely Patnode doing well.
Bryce Harrison, a seventh-grader out of Condon, secured first place in Ribbon Roping with Patnode as his partner and he grabbed fourth in Calf Roping.
Staked by those outcomes, he will run in both events at the Junior High Nationals in Gallop, N.M.

He also placed eighth in Team Roping and fifth in Goat Tying, making a trip to Gallop, N.M. in Ribbon Roping and Calf Roping.
As an eighth grader out of Arlington, Patnode garnered fourth place in Poles and scored top honors in Ribbon Roping with Harrison as her partner.
She is going to the National Junior High Rodeo finals in Gallup, N.M. for both events.
Whether or not more buckles or saddles are won at Nationals and SSIR, the main learning lesson taken by the team members is responsibility, dedication, effort and sacrifice.
It is a collaborative effort by everyone involved, especially with three rodeo athletes coming back next year, one making the jump to high school and one walking off into the sunset on a path to the collegiate level.
"Rodeo guides the kids to compete in skills that provide team and individual successes," said Brumley, the advisor. "It teaches life skills such as discipline, timeliness, communication, and scheduling."
Starting on Sunday, June 23 and ending on Saturday, June 29, Patnode and Bryce Harrison head to Gallup, N.M. for the National Junior High finals. The team caravan headed to Silver State from June 30-July 6 will be full, as these six competitors will get a final shot at the field in Winnemucca, Nev. Nationals take place from July 14-20 at Rock Springs, Wy.
More like this story
Latest stories
Latest video:
Mosier oil train fire
Clips from oil train fire in Mosier, Friday, June 3, 2016. by Mark B. Gibson/The Dalles Chronicle. Enlarge